Remnants of Idlib – The Domes and the Good Land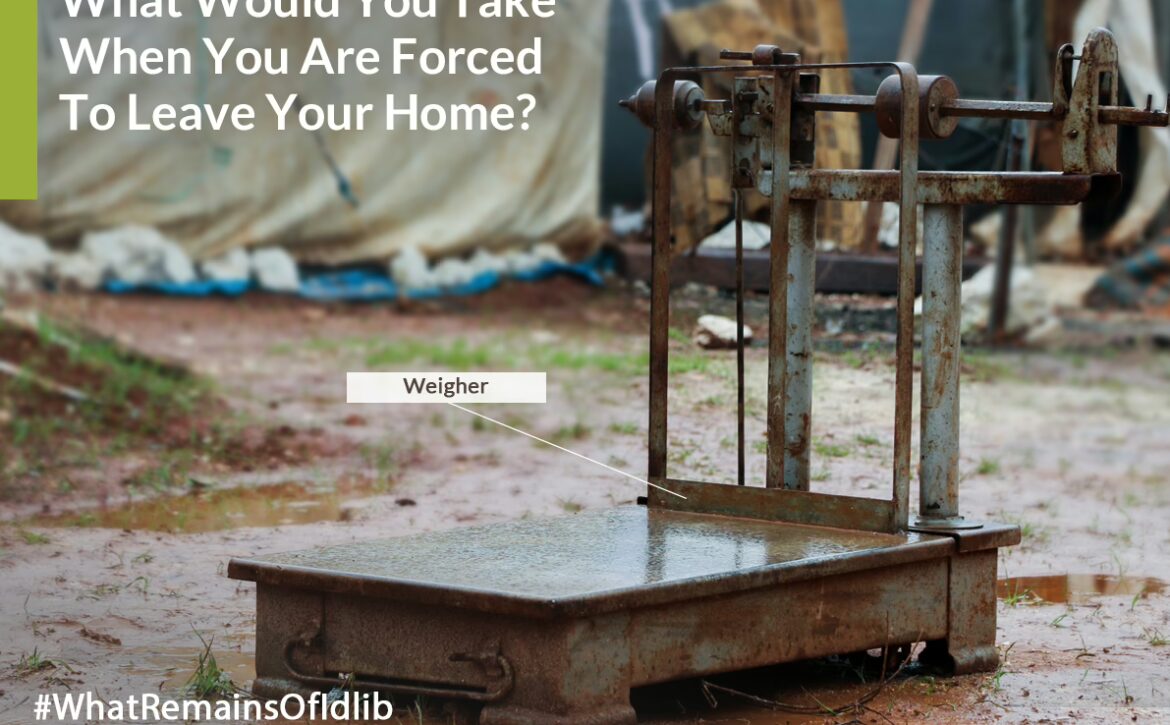 The story of this platform scale is not like any other scale due to the fact that it reminds its owner of his land where he spent decades of his life taking care of it through plants growing and harvesting every year. Haj Muhammad said: "This platform scale accompanied me throughout all these years.
I used it each year at the harvest season to calculate the crop of my 400 acres land. The crop was composed of wheat, barley, and alfalfa. This will be the first year in my life since couple of decades that there will be no plant growing neither harvesting nor calculating.
This land is the last heritage left from my parent. And, I had been cherishing it as my own child. Its loss today is the same as losing my own baby. I feel the same pain and a severe ache in my heart.
And believe me, it hurts so much. I just pray that we will be back one day home, and that no one in the world goes through this painful and hurting experience.
Haj Muhamad (55 years old) was forcibly displaced from his land in the suburb of Hama due to the brutal air strikes that have targeting indiscriminately the civilian houses in the village.
He was forced to leave his house and went on an arduous journey till he reached the Syrian – Turkish borders. The platform scale was the only left thing from his possession, that he took with him.
The picture of the platform scale seems like a grey metallic piece of iron, with no value or need for a stranger, passing by Haj Muhamad. However, it means the world to Haj Muhammad: it's a dear souvenir from his dad, and a lovely memory of a rich life and long history of a farmer's love and loyalty for his land.
Haj Muhammad explained to us, by stating: "Whenever I see this platform scale in front of my tent, it reminds me my dear land that doesn't go away from my mind even for a couple of seconds. I hope that I will be back soon to my home and hold the soil of my cherished land.
The number of displaced people reached 300,000 in only December 2019, due to the escalation of the barbaric bombing targeting civilians everywhere in Maarat al-Numan, the majority of whom are children and women whose fate is uncertain and are denied of their basic rights which put their lives and future at huge risk.
It is clear that the international community is being careless about the continuing violations of humanitarian and International laws as the Humanitarian Law, that obliges all states parties, to protect the civilian population, women and children from targeting in the armed conflicts areas.
People in #Idlib need us to spread the word so the whole world bears witness and so decision-makers are held responsible for ending this humanitarian catastrophe.
WhatRemainsOfIdlib#