Remnants of Idlib – Uncle Abu Kemal's Rosary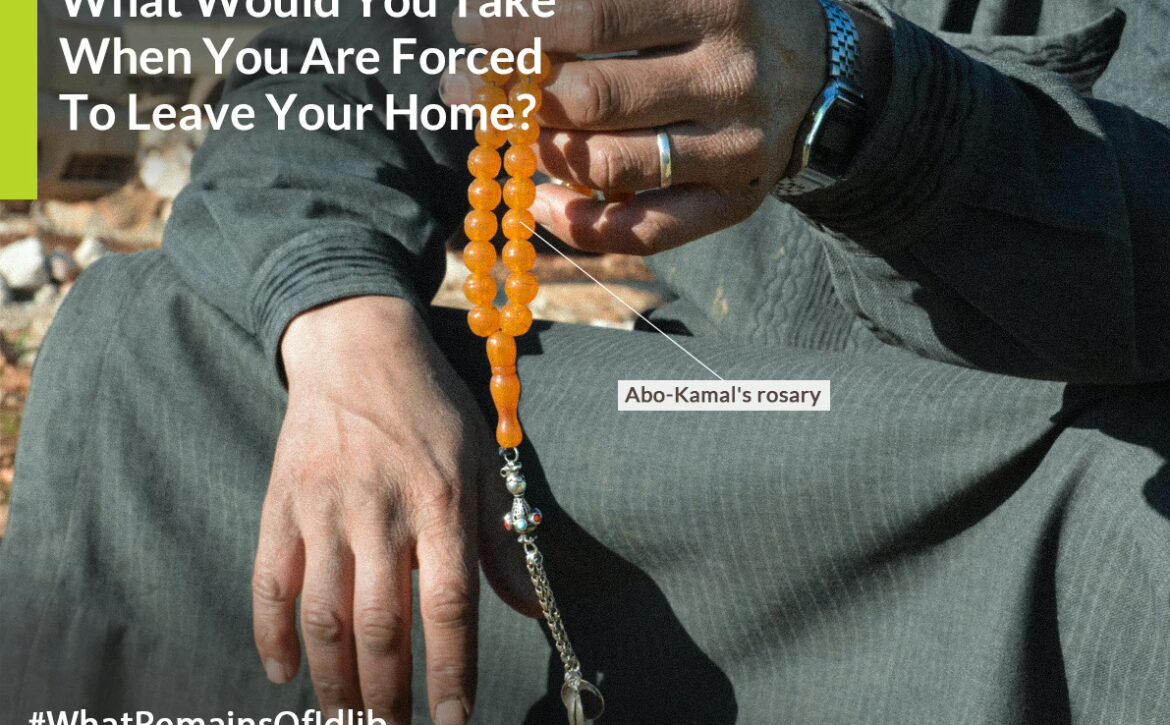 The last remaining memory of Uncle Abo Kamal is the rosary which is a precious gift given to him by a dear friend after his trip to the holy Mosque in Makka. In Abo Kamal's opinion, this rosary is not like any other rosary you might have seen due to its special structure, distinctive shape, and its nice musk aroma.
Abo Kamal, 55 years old, explains to us the history of this remarkable rosary by saying: "My dear friend Haj Abo Akram gave me this valuable gift upon his return from the holy Mosque 15 years ago. This rosary carries till now the smell of the Holy Land, along with the cherishing memories of this era".
Unfortunately, the circumstances of our meeting with Abo Kamal were harsh. We saw him sitting in front of a tent in Deir Hassan Camps, in Northern Syria.
He was forced to leave his house in the suburb of Hama, like thousands of his fellow citizens, due to the appalling airstrikes and the gruesome military escalation in Northern Hama and Idlib Governorate in the middle of 2019. And similarly to thousands of his fellow citizens, Abo Kamal and his family didn't have the chance to take anything from the home except the clothes they had on them at the time of escape.
Because the indiscriminate heinous bombardments do not distinguish between to any humans, regardless of their age, sex, race, color or religion, rather not giving them time to catch their breath and wake up of this shock to think of anything to do except escape and survival.
In the midst of the series of these shocking events and horrific calamities, the rosary was the only item that remained with Abo Kamal in his enforced displacement, and that accompanied him in his painful journey towards the unknown since last year.
In his turn, Abo Kamal finds in his precious rosary the best companion in his endless journey that he didn't chose to go on it. He affirmed: "The only moment that separated me from my rosary is the sleeping time.
We have been together for the past 15 years ago." He added: "The horrible feeling is to be left overnight with nothing except the clothes you had on you at the time you were obliged to leave home. I cannot find any words to describe the situation and its effects on us morally and physically.
But, I can only tell you that I don't leave my rosary even during the time I am supposedly sleeping. This feeling of insecurity is dominant on everyone here in this camp regardless of their age or sex. I just hope that one day in the near future, I will be able to go home with my family and leave safely and securely."
The number of displaced people reached 380,000, only from December 2019 to the first half of January 2020, due to the escalation of the barbaric bombing targeting civilians everywhere in Maarat al-Numan, the majority of whom are children and women whose fate is uncertain and are denied of their basic rights which put their lives and future at huge risk.
The Humanitarian Law obliges all states parties, to protect the civilian population, women and children from targeting in the armed conflicts areas.
People in #Idlib need us to spread the word so the whole world bears witness and so decision-makers are held responsible for ending this humanitarian catastrophe.