Remnants of Idlib – Um Yasser and her Worn Out Tent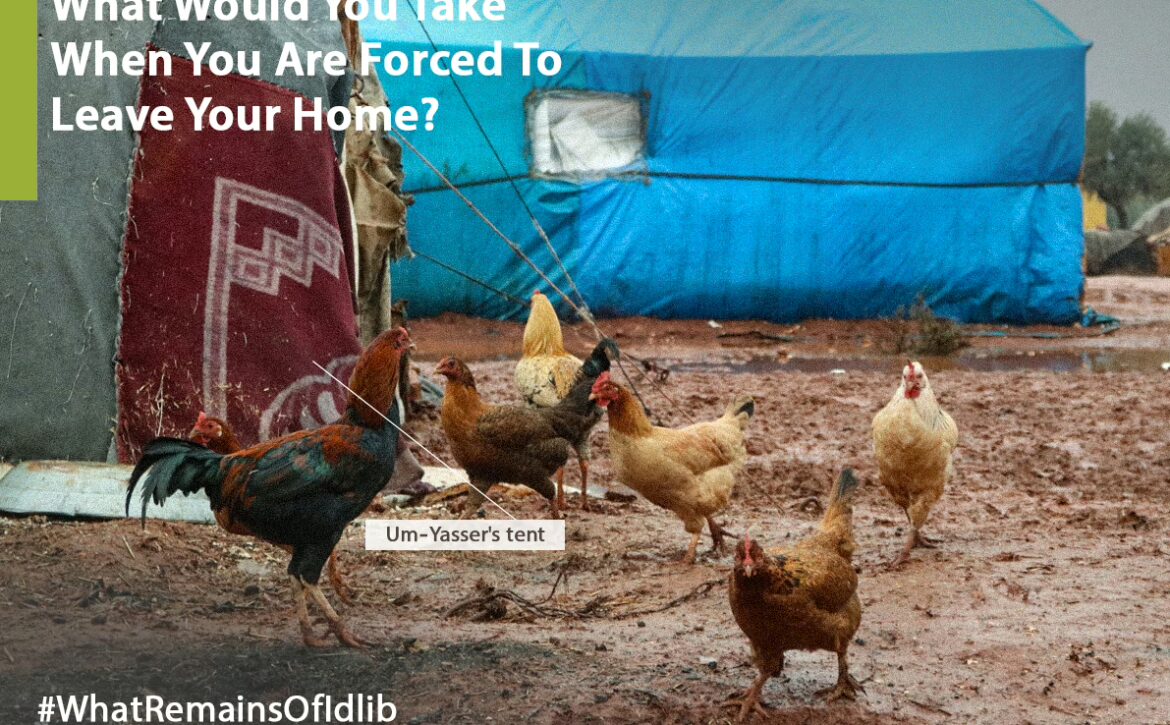 Today, only a few chickens and uninhabitable tent is all what Um Yasser has. Unfortunately, Um Yasser has been forced to leave her house in the suburb of Maarat Al-Numan due to the latest violent military escalation in the governorate of Idlib. After a difficult and risky journey, she reached one of the haphazard camps in Northern Idlib.
Um Yasser is an old woman; whose face has wrinkles that tell the story of her struggle and survival. She described her forced displacement from her home as "the most difficult and painful phase she has been through in her last seven decades".
When she was in her village, her main occupation was her huge passion for environment, big interest in animal husbandry and her care for plants. She said: "animals and plants are paradise on earth when they are surround us. And, I can't live anywhere unless in paradise".
Though she had to go on an arduous journey, especially for an old woman in her age; she couldn't leave without taking few chickens with her to accompany her, until she reached finally a muddy land and tent close to the Turkish – Syrian borders.
Despite all this hardship and pain she has been through, but she is confident that she will return back to her home soon. She believes that the paradise she left behind is absolutely waiting for her return to take care of it.
The number of displaced people reached 300,000 in only December 2019, due to the escalation of the barbaric bombing targeting civilians everywhere in Maarat al-Numan, the majority of whom are children and women whose fate is uncertain and are denied of their basic rights which put their lives and future at huge risk.
It is clear that the international community is being careless about the continuing violations of humanitarian and International laws as the Humanitarian Law, that obliges all states parties, to protect the civilian population, women and children from targeting in the armed conflicts areas.
People in #Idlib need us to spread the word so the whole world bears witness and so decision-makers are held responsible for ending this humanitarian catastrophe.
WhatRemainsOfIdlib#