Remnants of Idlib – The Strong Mother: Old Aziza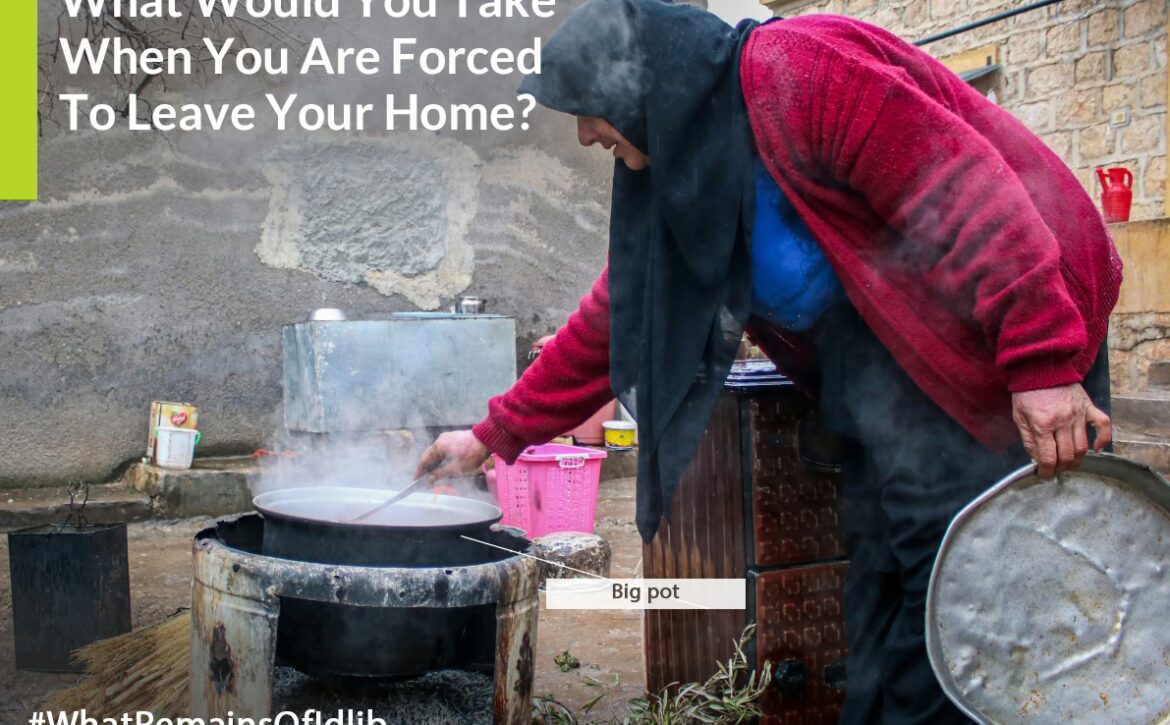 With complete determination along with a broken heart, the old woman "Aziza", her husband, her two sick daughters, and the families of her three sons lives in a small two-rooms house lacking the basic needs of life, this was after their recent arrival in the village of Korkan in Afrin in northern Aleppo countryside due to the ongoing airstrikes and bombardments that forced them to leave their house in the town of Aynjara, west of Aleppo, to the ruins of the destroyed buildings located on the Syrian-Turkish border.
Aziza, 60 years old, was forced to leave behind everything she was able to collect and arrange in her expansive house, which took years of hard work only to secure a decent life for her sons and daughters, and now she forcibly leave with her big family, empty-handed from all of what she had, but keeping the soul and compassion of the mother and the grandmother no matter whatever fate has drown for them.
Old Aziza prepares their daily food in a big pot like her big heart, to feed her family, who has never experienced such difficult circumstances, and to set a good example for them in the strong will and the kind heart and "using as much power as she have to comfort her family and her loved ones" as Aziza said.
The number of displaced people reached 300.000 persons, only in January 2020, due to the escalation of the barbaric bombing targeting civilians everywhere in southern Idleb and Aleppo countryside, the majority of whom are children and women whose fate is uncertain and are denied of their basic rights which put their lives and future at huge risk.
The Humanitarian Law obliges all states parties, to protect the civilian population, women and children from targeting in the armed conflicts areas.
People in #Idlib need us to spread the word so the whole world bears witness and so decision-makers are held responsible for ending this humanitarian catastrophe.