An explosion in Jarablus Harms Both Humanitarian Work and Humanitarians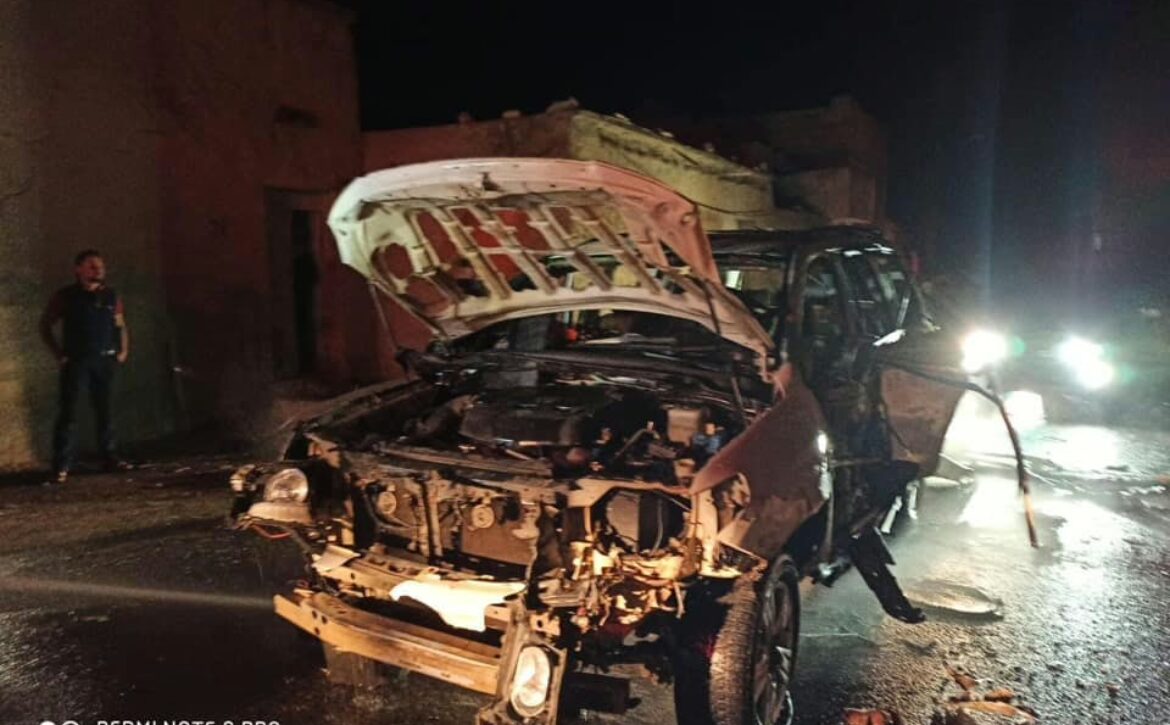 Press Release
An explosion in Jarablus Harms Both Humanitarian Work and Humanitarians
Jarablus – 31 May 31, 2020: ATAA's Jarablus office manager Mr. Tariq Hamad was seriously injured due to a car explosion yesterday evening, Saturday May 30, 2020.
The accident was horrific and caused him severe injuries and damage in his body. It led to the amputation of both legs in an operation that lasted three hours in Jarablus Hospital. He is still under health supervision in the hospital, especially due to the vast bleeding and blood loss.
Initial investigations revealed that the target of the car bombing was not ATAA's office manager; that he infrequently yesterday had to drive his brother's car because his car was broken. It is shown that the target was for one of his brothers who is a cop in the military police in Jarablus. And the party that is responsible for the explosion is unknown yet.
This accident resulted a suspending in all the humanitarian work for one full day there.
ATAA is considered one of the most active workers in humanitarian projects there, that is serving IDPs and host communities as well with basic food baskets, RTEs and appropriate decent housing. ATAA has established a housing compound there to house 560 families in concrete housing units provided with all basic services consisting of a school, a dispensary and a mosque. And the provision of food, non-food and winterization services also to the affected families in the area. And it is worth mentioning that, we have not witnessed any targeting against humanitarian workers in the Jarablus area so far.
Khaled Al-Essa, Executive Director of ATAA Humanitarian Relief Association, said: "We condemn these dangerous bombings that threaten the lives of millions of afflicted people in northwestern Syria in general and humanitarian work in particular. They negatively affect the security of civilians in the area to which the people are supposed to have been displaced escaping the suffering of the war in order to get safe and served. We ask Allah for a fast recovery for our colleague Tariq, strength and determination for him, his family and all humanitarian workers in these difficult circumstances."
ATAA implores the authorities responsible for the security of the region to take all necessary measures to provide safety and carry out their duty towards protecting innocent civilians in northwestern Syria. We request the authorities to hold accountable those responsible for committing these violations and not to ignore them. ATAA confirms its support and solidarity with all those affected by these targets in this region.
About ATAA Association
ATAA is a non-profit humanitarian association, was licensed and registered in Turkey as a national organization in 2013, working to provide humanitarian assistance for the Syrian people in both Syria and Turkey and seeks to develop the Syrian society and enhance its living conditions. ATAA isn't only providing emergency response but also promotes sustainable economic and social development by working with the Syrian community. Regardless of race, religion, or gender inside Syria and Turkey in aligning with Sustainable Development Goals.
For more information please contact the Advocacy and Communication Coordinator Dima Marrawi
Advocacy manager
05050188035