Ataa Guest House revives hope in the hearts of its patients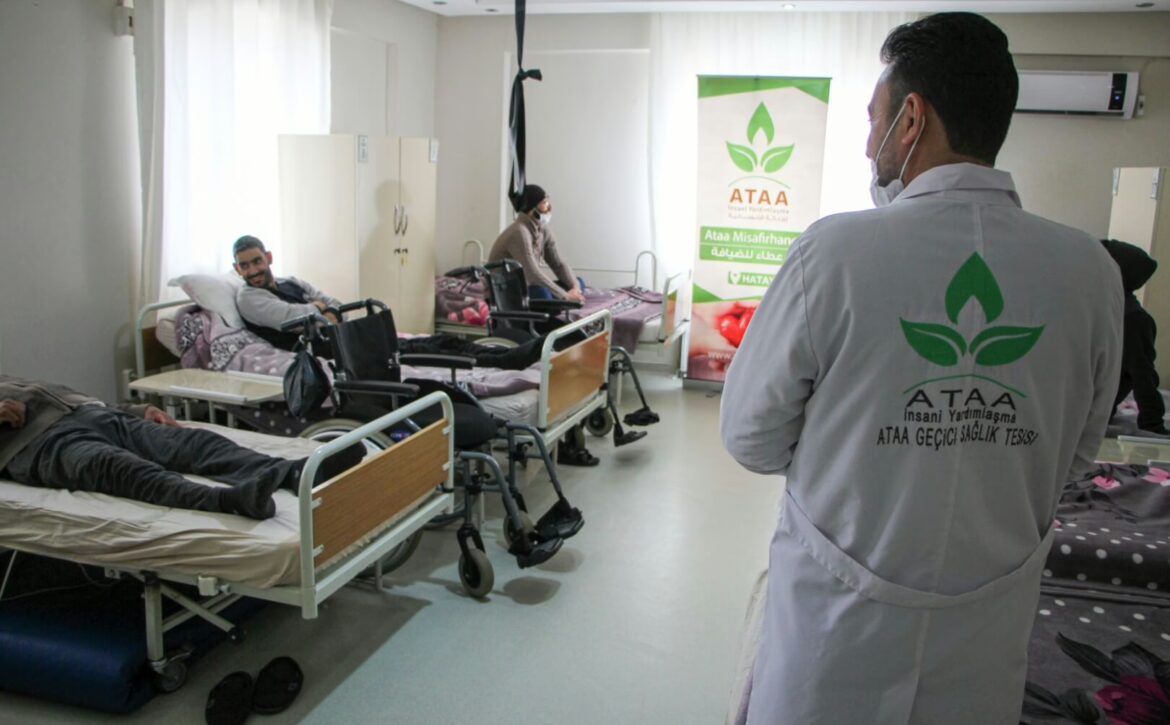 Ataa Guest House continues to provide its services to the beneficiaries, which are include providing accommodation and health care to patients and their companions, and following-up of people with injuries to the spinal cord and brain, in order to alleviate the severe suffering they have suffered as a result of the events in Syria, The Ataa Guest House was established at the end of 2017 AD in the city of Reyhanli, southern Turkey, and the number of beneficiaries for the year 2020 (patients / companions / employees) reached more than 461 people.
The project aims – according to its director, Mr. Mahmoud Kwaider – to help patients and spread hope in them, and to give them a hand in the fields of medical, food and personal needs in addition to helping them get rid of the psychological and negative effects caused by the injury, until they are able to return to their normal life.
Mr. Kwaider said: the idea of the project came as a result of the lack of a specialized center  to take care of the sick, which contributed to strengthen the hope to this forgotten and vulnerable group of the injured people, especially since the city of Reyhanli is home to nearly 500 injured people who need integrated health care in order to restore their hope in life.
Ataa Hospitalization House receives a number of the following pathological cases : spinal cord injury, traumatic brain injury, central nervous disease, infarction and brain clots. The hospital contains about 35 beds, and accommodates about 25 patients with special needs, in addition to their companions, as some cases require the presence of the companion with the patient.
The Hospitalization House is supervised by "doctors of all specialties, professional nurses, and physical therapists" who follow and handle the processes of treating the wounded and conduct physical treatment for patients to rehabilitate them again in order to facilitate their integration into society.
Mr. Kwaider pointed out that the services provided by the Guest House to patients and their companions are numerous and varied, including health care and appropriate meals according to the carefully prepared food program for them, in addition to psychological support for patients and their companions during the stay period, and targeted activities and programs that restore self-confidence and the desire to succeed and overcome all obstacles. All supplies and special needs of the patients are available during the stay.
Ataa Hospitalization House consists of two floors equipped with all the tools and services to help and host the injured with special needs, and includes a number of important sections, including health care department, laundry section, kitchen and dining hall, training rooms, support services department, security and guard department, administrative, media and secretarial department, and the psychological support section that are equipped with various amenities. And the patient rooms are equipped with heating and air conditioning systems, electric beds, wheelchairs and emergency exit.
For his part, the patient "Muhammad Ahmad Harbi," displaced from the city of Homs, says: "I suffered a severe injury as a result of a traffic accident that paralyzed my four limbs as a result of a fracture of the neck vertebrae. I stayed in the hospital for 6 months in the intensive care unit, unconscious. After a while I woke up from my coma, and I was discharged from the hospital"Ataa Guest House revives hope in the hearts of its patients.
Mr. Muhammad added, "During my time at home, I started to feel suffering and inability to move. I needed special care in order to complete my treatment. After communicating with my friends, I was directed to the Ataa House for hospitalization, and thanks to God, I contacted the center's management and was received in the Ataa Guest House and received complete care and the necessary physical therapy within an integrated plan".
He continued: "Now I feel completely satisfied, comfortable and grateful for all the services provided by this House, it is a unique of its kind in Hatay, as if I were among my family due to the good treatment and hospitality. I am very glad and so delighted because of the great results that I reached after a reception period that lasted about 7 months. It changed the course of my life after my family lost hope that I may return to life. Now, I am in full health and wellness, and I am preparing to get married and start a family, thanks to God, I returned to my natural life completely ".
It is noteworthy that Ataa Association for Humanitarian Relief, since its establishment in 2013 AD, has been providing medical aid and services to the displaced in the northern Syrian camps, and also to the refugees in southern Turkey, free of charge. And Ataa Association is interested in developing ways to provide medical services to Syrian patients. It runs more than one medical center, most notably the clinics of Ataa Medical Village, and the mobile clinics that tour and provide treatment and examination in random camps in northern Syria, in addition to the specialized center for the rehabilitation of spinal cord injuries in the city of Reyhanli, southern Turkey.